August 20 2018, Prime Minister Jacinda Ardern announces salary freeze for MPs.
The latest pay rise, of 3 per cent, was due to kick in later this month and be backdated to July 1 but Parliament will pass a bill under urgency to freeze the current pay for a year.
Ardern said it is "not appropriate for MPs to be subject to such an increase." Does this mean the HDC annual blackmail salary increase demand of 5.75% for the last 15 years (14 periods) is also is not appropriate?
Here we see the hold on the Govt the HDC, you pay us what we domain, you get your protection.
Fact: HDC has on average 5.74% annual salary increase for 15 years!
Fact: 5 HDC staff received 10% entire operating HDC & HDC Advocacy budget
| | | | |
| --- | --- | --- | --- |
| Year | HDC Salary | % Increase each year | % Increase average |
| 2017 | 370000 | 2.70% | 5.74% |
| 2016 | 360000 | 5.56% | 5.98% |
| 2015 | 340000 | 5.88% | 6.01% |
| 2014 | 320000 | 15.63% | 6.03% |
| 2013 | 270000 | 0.00% | 5.07% |
| 2012 | 270000 | 3.70% | 5.63% |
| 2011 | 260000 | 7.69% | 5.87% |
| 2010 | No HDC | | |
| 2009 | 240000 | 4.17% | 6.54% |
| 2008 | 230000 | 4.35% | 5.84% |
| 2007 | 220000 | 4.55% | 7.69% |
| 2006 | 210000 | 4.76% | 6.55% |
| 2005 | 200000 | 10.00% | 7.15% |
| 2004 | 180000 | 5.56% | 5.72% |
| 2003 | 170000 | 5.88% | 5.88% |
| 2002 | 160000 | 0.00% | |
| 2001 | 160000 | 0.00% | |
| 2000 | 160000 | | |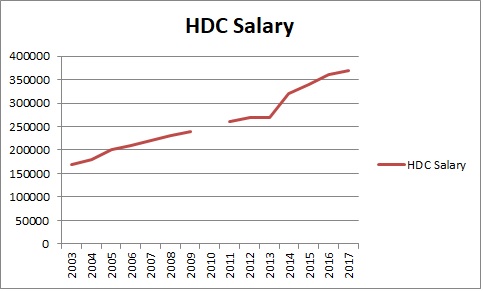 Or link here to expand https://hdcfraud.com/wp-content/uploads/2018/08/HDC-Salary-02.jpg
https://hdcfraud.com/wp-content/uploads/2018/07/147.png
0
0
silvia
https://hdcfraud.com/wp-content/uploads/2018/07/147.png
silvia
2018-08-01 20:36:13
2018-08-21 09:37:30
HDC extorts the Govt for Salary-blackmail payments in return of ultimate protection from health consumers